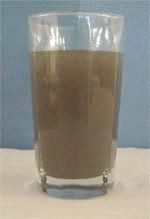 Yum, right?
What if your drinking water came out of the sink this way? I'm sure each and every one of us would be typing up a work order on the computer right away. What if you actually had to drink it? In class, we talked about basic human rights. We discussed, or at least began discussing what exactly human rights are. Some classify human rights as simply being life in itself. Others classify it as a certain type of freedom. Although we never came to a conclusion in the class discussion, we did discuss certain other aspects that are concerned with human rights such as food, water, and shelter.
I recently just saw a video the other day that was actually quite shocking. We all know that there are violations of human rights everyday. Millions are dying every day from hunger and lack of clean water. We all know this. We've all seen the infomercials. However, when presented with actual numbers and figures, the focus changes.
As the figures stand today, it would only take $10 billion to provide everyone in the world with clean water. This figure may seem high, but not when we compare it to how much money we are spending in Iraq. The figure seems even smaller when we just compare it to an American Christmas. Americans spend over $450 billion EVERY YEAR for Christmas.
Now, that is an aspect concerning human rights that could use some readjustment. If we just put 1/45 of the money we spend just on Christmas, millions of people could be saved. It's not just the fact that these people are dying. In essence, we could even call it torture. The so called "water" that millions of people are subjected to drink each day leaves them with cholera or diarrhea- an unpleasant way to leave this world.
So what do we do? We saw from
Globalization
, how America can bring its Nike shoes, Chicago Bulls jerseys, and McDonalds to just about any country in the world. But we can't bring clean water or food. Globalization is mainly concerned with economics, however where do we draw the line? When does the economic focus end and the ethical focus begin?